Barbara Boyle (1946-2016) – a nurse committed to her patients and colleagues leaves a significant legacy of $354,000 for future generations
Bathurst – The Chaleur Regional Hospital Foundation is very proud to announce that it has received a planned gift in the amount of $354,000 from a nurse, who was always dedicated to and passionate about her profession, to support various projects at the Chaleur Regional Hospital. We invite you to watch the following video to learn more about Ms. Barbara Boyle's legacy:
Ms. Barbara Boyle graduated from a 3-year program at the Hôtel Dieu School of Nursing in Bathurst in 1968 and received her Bachelor of Nursing degree from the Université de Moncton in 1985. After graduation, she spent a year in Ottawa and the rest of her career at the Chaleur Regional Hospital where she became a leader, role model, confidante, and an inspiration as a nurse and Emergency Department Manager. Barbara was highly respected and admired by her colleagues, physicians, and patients. Her two great loves were her work as a nurse and the Emergency Department.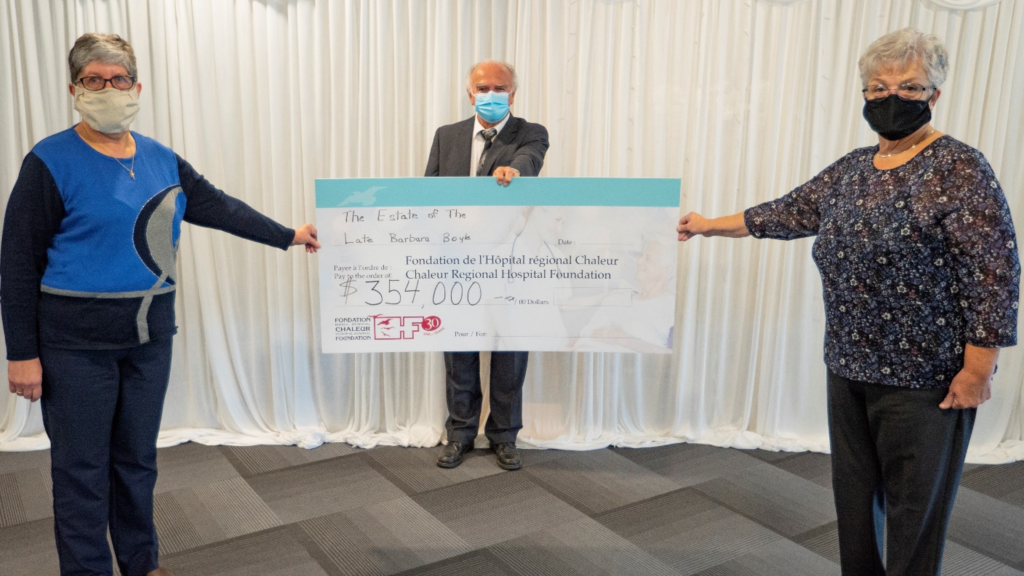 "We are very proud to have been able to identify the Chaleur Regional Hospital as a benefactor for our dear friend and colleague Barbara Boyle. She always demonstrated a passion for her work and dedication to her patients. In addition, as a manager, she always encouraged the development of her staff's skills. We are very pleased with the agreement we have developed with the Foundation to acquire equipment for Emergency Department and provide a means for a continued source of education needs for nurses in Emergency and Oncology," explained Ms. Debbie Gammon and Ms. Judy Melanson, executors.
This significant gift will be distributed as follows: $250,000 invested in the Emergency Department for the acquisition of equipment, a $52,000 scholarship fund created in her memory to support Emergency Department nurses at the Chaleur Regional Hospital in continuing their professional development, and an additional $52,000 for the creation of a professional development scholarship fund for nurses working in the Chaleur Regional Hospital's Oncology Clinic.
"It is certainly very motivating and gratifying to learn that a former manager and co-worker wanted to continue to inspire us after her passing. I have very fond memories of Barbara and her gift will allow us to purchase important equipment and continue to support our nurses' professional development so that we can provide even better services and health care to our patients," explained Ms. Huguette Boudreau, manager of the Emergency Department at the Chaleur Regional Hospital.
"Professional development ensures we remain current with best practices. This scholarship fund supports ongoing training for our nursing staff, » added Véronique Haché, acting manager of the Oncology Clinic at the Chaleur Regional Hospital.
The Chaleur Regional Hospital Foundation's Planned Giving Program is a way for people to make a significant gift and leave a legacy for future generations after their death. It is estimated that only three in ten Canadians have a will. When someone dies without a will, the wealth accumulated during their lifetime is distributed according to provincial law, which may not align with what they would have preferred. Making a will does not have to be complicated, but it should be done with appropriate legal assistance.
"We are extremely grateful that the Foundation is one of the beneficiaries of the late Barbara Boyle's Estate. We were told that Ms. Boyle was committed to professional development throughout her career; therefore, we are pleased to create two scholarship funds in her memory, designated for the Emergency Department and the Oncology Clinic, that will be identified on our recognition wall. In addition, the trauma room in the Emergency Department of the Chaleur Regional Hospital will be named in her memory to recognize her exceptional contribution," explained Mr. Jean-Guy Robichaud, chairman of the Chaleur Regional Hospital Foundation's Board of Directors.
About the Chaleur Regional Hospital Foundation
Since 1990, the Chaleur Regional Hospital Foundation has invested more than $12 million in projects touching the quality of patient care on top of a commitment to invest $5 million towards the campaign for the major renovation project at the hospital.
-30-
For more information:
Mona Doucet
Director of Development 506-544-2370, [email protected]