The people of the Chaleur region show their commitment to their hospital despite the pandemic
February 23, 2021 – Thanks to hard work by the campaign team and to the community's generosity, we have reached our $300,000 objective. Gynecology, Urology, Pathology, Medical Imaging, Oncology and the Surgical Suite will all receive new, cutting-edge equipment thanks to the money raised by the 2020 Annual Campaign of the Chaleur Regional Hospital.
This success is a result of engagement by many donors and of events such as the Roses Radiothon, the Charity Golf Classic and the Northern Star. The Chaleur Regional Hospital will benefit from acquiring a number of new pieces of equipment that will further strengthen the key role it plays in the lives of the people of Northeastern New Brunswick.
"The people of our region have once again shown their tremendous generosity and engagement by supporting the efforts of the Chaleur Regional Hospital's staff to deliver health care of optimal quality. Patients and families touched by cancer really need the public to support health care here in our region," explained Mona Losier, Chair of the Roses Radiothon event held by the Chaleur Regional Hospital Foundation.
"Even if the Charity Golf Classic did not unfortunately take place this year due to the pandemic, we explained the situation to our loyal partners and asked them to convert their participation into donations. The committee was thrilled with how they stepped up," explained Dr. Marc‑André Doucet, Chair of the Charity Golf Classic.
"Acquiring these new pieces of equipment will clearly further improve the services we offer the people of Northeastern New Brunswick, in addition to reducing waiting times and travel for patients and their families," indicated Dr. Marilyne Bossé, Chair of the Northern Star of the Chaleur Regional Hospital Foundation.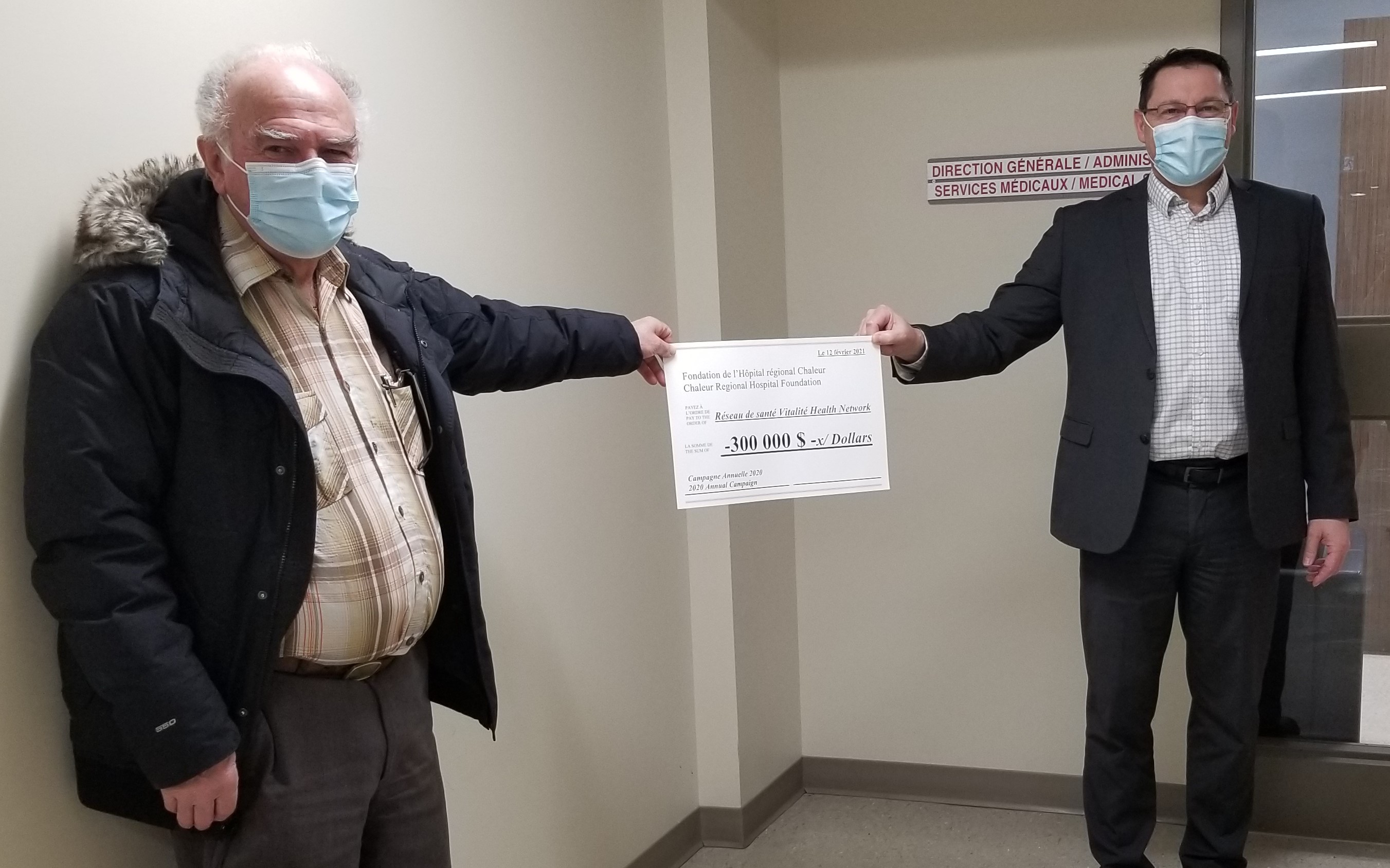 From left to right: Jean‑Guy Robichaud, Chair of the Board of Directors of the Chaleur Regional Hospital Foundation and Stéphane Legacy, Vice-President of Outpatient and Professional Services.